🚂 Where to? Children's Day 🚂
Oct 01,2021 | Enchante Creative
Enchanté everyone!
Children's Day is round the corner so we're dedicating this post to the little ones in our lives! This Friday, we are excited to share our TOP FIVE go-to places. We guarantee they will bring loads of fun to you and your family! 
Thank you The Five Magic Beans for putting this post together and sharing your recommendations with the Enchanté Family! 

Every weekend, The Five Magic Beans source new places to take the little beans to - from adventure day out in nature to edu-learning trip to the museum. Here are some of their favourite places based on different planning considerations!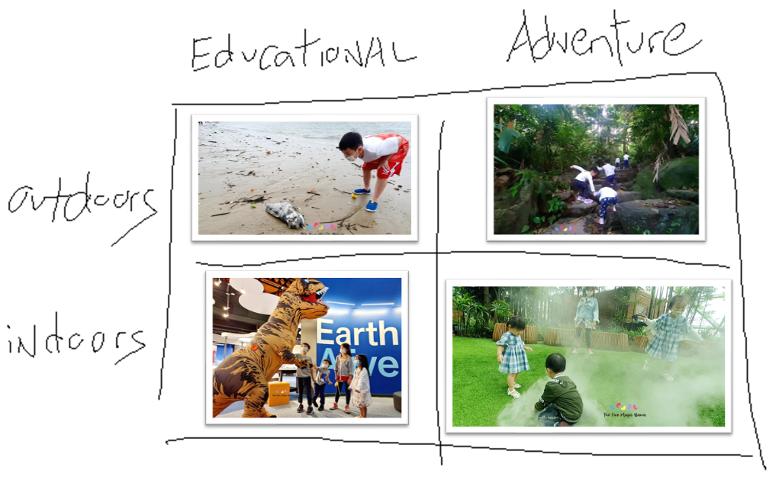 1. Super Park
Super Park is indeed what its name claims – super :) 
✨ Main Highlights ✨

Adventure Area includes tube slide, trampolines, flying fox, slides, playtowers, pedal car racing track and kids' gym suitable for toddlers below 100cm!

Game Arena - a great place for all ages - sports for kids and families. Take a jump shot at Street Basketball 🏀, fire a shoot at Archery 🏹 or shoot for the pin at Golf Range ⛳️.

Freestyle Hall - all-in-one indoor sports park You can skate , scoot , jump on the trampolines or into the foam pit, the climbing wall . One of the best gymnastics floor around!
✨ Tips ✨

Less is more - don't try to cover everything in 2 hours! Pick your best spots and dive into fun in that activity
Dress in comfortable attire.
(You may also notice that the little Beans are decked out in a similar attire! They were sporting the tokidoki Logo Sequins Tee from us!)
For more information on things to note, what to wear and other important details, head over to their Instagram post for a super comprehensive guide! 
2.  Changi Beach Inter-tidal Walk
This place sits in the far east of our 'lil island – we saw some unique sea creatures scurrying in their homes 🦀🐠🐚⭐️. The only other time we could get up close and personal was on our diving trips… so this felt like diving above water! 
💡 Did you know? 

Singapore has 2 low tides & 2 high tides a day. Height of tide differs every day. High & low tides don't happen at same time every day, the highest & lowest tide levels change daily too! We checked the tide tables and headed down when it was nearly 0m.
Check out the little bean's full adventure and guide here! For a sneak peek on the creatures the little beans spotted and a quick guide on what to take note of, do check out their Instagram post below! 
3. Jewel Changi Airport
A wondrous world where nature meets play, dining and retail! At Jewel Canopy Park, we took a glimpse into the little beans' world. Crossing the Canopy Bridge, they stuck their faces to the glass floor to marvel at how high we were. Entering the Mirror Maze, they prodded each other as they moved cautiously between reality and reflection. Relaxing at the foggy bowl, they set up their barbeque and chatted over a picnic. 
If we could see the world through the eyes of children, we would see magic in everything.
Check out the little beans full adventure and guide here! A detailed guide on what to take note of and the available activities can be found on the Instagram post below! 
P.s. Did you know that Jewel is running 20% off their standard individual attraction tickets from 08 to 24 Oct 2021 (with $5 Surprise Treat voucher with $30 nett spend)? Cherry on top of the cake!
4. Science Centre
Fun facts. The Science Centre has been around for 40+ years! It boasts 15+ different exhibition galleries spread across different Halls and The Annexe. The The girls loved "Butterflies Up-Close - An immersive journey through the stages of butterfly metamorphosis" while the boys' favourite exhibits include "Know Your Poo: Touches about human waste, toilets and sanitation" and "That's Gross Science Show: Takes you through unpleasant yet very important bodily excretions". 
There were several new exhibits too – Energy Story just came on and the dinosaur show at the Omni Theatre was a real treat for all The Five Magic Beans.
Check out the little beans' full adventure and guide here! For a quick look at the main highlights, operating hours and more, all is found in our Instagram post below!
5. Bukit Batok Hillside Park
Bukit Batok Hillside Nature Park has been around for decades and the trail is littered with all sorts of trail markers (and rubbish!). Sometimes, these trail markers conflicted with one another and papa, mama and the little beans found themselves going in circles at times. As the sun set, they were still rummaging through the thick forest on top of a hill, with steep slopes around… it took some luck and an acrobatic papa Bean to swing the family down, Tarzan-style! 

Kudos to the Magic Beans who went back to mark out the different trails (orange trail to Torii Gates, blue trail to the abandoned hut, red trail to the bamboo forest at the top of the hill) for other adventure seekers. 
Check out the little beans' full adventure and guide here! If you want to know how to get there and what are the essentials to bring along, our Instagram post below!
With this we have come to the end of the post! We would like to thank The Five Magic Beans for this wonderful compilation of where to go next, and we hope you have a wonderful time with your little ones this Children's Day! Remember to stay safe and adhere to the prevailing Government policies on Safe Management Measures!

Here is one final advice from them.
"One of the key factors in a great day out is dressing right! Covered shoes an absolute must as we walk the beaches, long sleeves to keep the "forest" mosquitoes at bay… the list goes on! As we embark on our next fun day out, we look forward to getting dressed up by Enchanté – after all, Cinderella is proof that the right fit of fashion can change your life!"
With love,
Team Enchanté
Share this article with your friends!
Follow us on our social media platforms!
💙 Facebook: Enchanté SG
💜 Instagram: @enchante_singapore and @enchantesg_official
🤍 Telegram: Enchante ❤️🌈
🖤 Tiktok: @enchantesg
Comment