📷 As Seen On Local Celebrities 📷
Aug 20,2021 | Enchante Creative
Enchanté everyone!
It's time for another "Enchanté, its Friday!" post. Here, we share all wonderful things to do with fashion, lifestyle and more.
This week, we spotlight some of our favourite local celebrities who have donned Enchanté's fashion and accessories!
As Seen On: Zoe Tay
The Queen of Caldecott Hill is dressed in our tokidoki Royals T-shirt Dress. On days where you are too lazy to put an outfit together, throw this on for an effortlessly dressy look! A simple yet eye-catching dress for sure. And our dearest Ah Jie's winning smile completes this fun and fresh look!
So nice! Where to find?
As Seen On: Xubin and Kimberly Chia
We love a dynamic duo! Kimberly Chia and Xu Bin are featured here, with Kimberly pairing our tokidoki Flyer tee with a light washed denim skirt, while Xu Bin had styled our tokidoki Cosmo Reversible Jacket and Marino Flip Sequins Tee together.
These pieces were sold out in a flash. Hurry and shop similar these items now!
So nice! Where to find?
As Seen On:

 Zong Zi Jie
Here is Zi Jie in our outstanding tokidoki Kaiju Flip sequined top! The perfect fitted tee, this shirt offers a casual yet eye-catching look with its vibrant two-in-one design!
Yet another sold out number, cart the Andromeda Tee while it's available. Don't say #bojio!
So nice! Where to find?
As Seen On:

 Dasmond Koh
Another dazzling duo! What a precious picture. Dasmond Koh in our iconic tokidoki Logo Flip Sequins Tee. Make full use of this unique top by coordinating the golden and silver sequins with your choice of accessories that day!
So nice! Where to find?
As Seen On:

 Angel Lim
Angel Lim looks like a dream in our tokidoki Winter Dreams dress! The tokidoki prints detail the collar and skirt of the dress for a subtly lively look. Let this flattering dress bring out your fun and carefree side!
So nice! Where to find?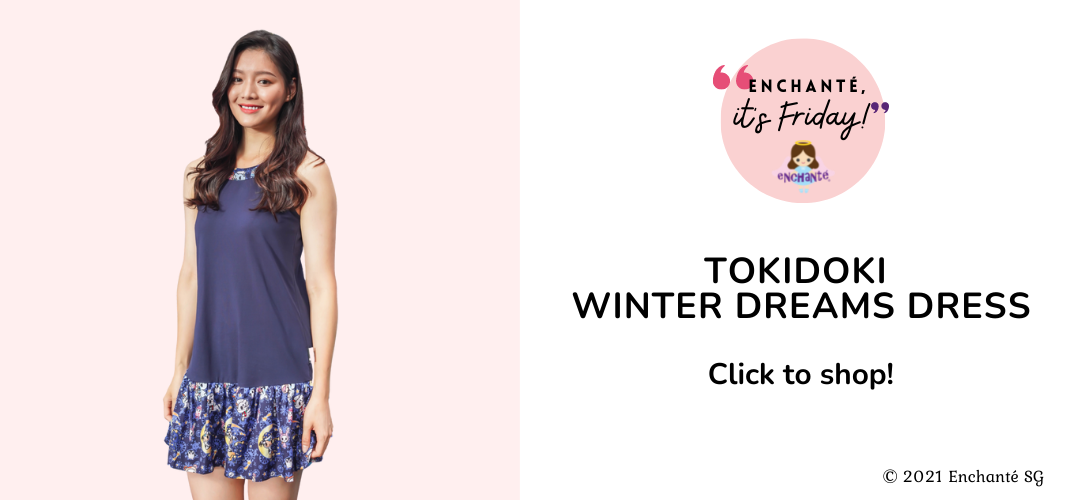 As Seen On:

 Kimberly Chia
Featured here is the beloved Kimberly Chia in our tokidoki Boba Love Snapback, combining these pastel hues that look as sweet as milk tea with 100% sugar.
This cap is perfect for the bubble tea lovers out there — there is always room for bubble tea! Treat yourself to the creamy delight today, and order yourself a cute cap while waiting for your order?
So nice! Where to find? 
As Seen On: Tay KeWei 
Featured here is Ke Wei looking dazzling in our tokidoki dress! The vibrant print really pop against the black fabric, accentuating Ke Wei's natural beauty!
This item was quickly sold out too! Here is a similar looking Winter Dreams dress in black. Order one soon, while stocks last!
So nice! Where to find?
As Seen On:

 Michelle Tay and friends
Why go solo when you can matchy-matchy with your pals? Peep Michelle and her friends in our tokidoki Singapore Lah Tee! Grab our iconic graphic tees with your friends and announce your stronk friendship with the world!
Unfortunately, this limited edition Singapore Lah design is no longer available. But fret not, D-I-Y your own by ironing on our Marino patches onto any black tee!
So nice! Where to find?
A huge thank you to these wonderful people who have shown such strong support for us at Enchanté. We hope you all have a wonderful day ahead!
With love,
Team Enchanté
Share this article with your friends!
Follow us on our social media platforms!
💙 Facebook: Enchanté SG
💜 Instagram: @enchante_singapore and @enchantesg_official
🤍 Telegram: Enchante ❤️🌈
🖤 Tiktok: @enchantesg
Comment