🎁 5 Gift Ideas for Teacher's Day! 🎁
Aug 27,2021 | Enchante Creative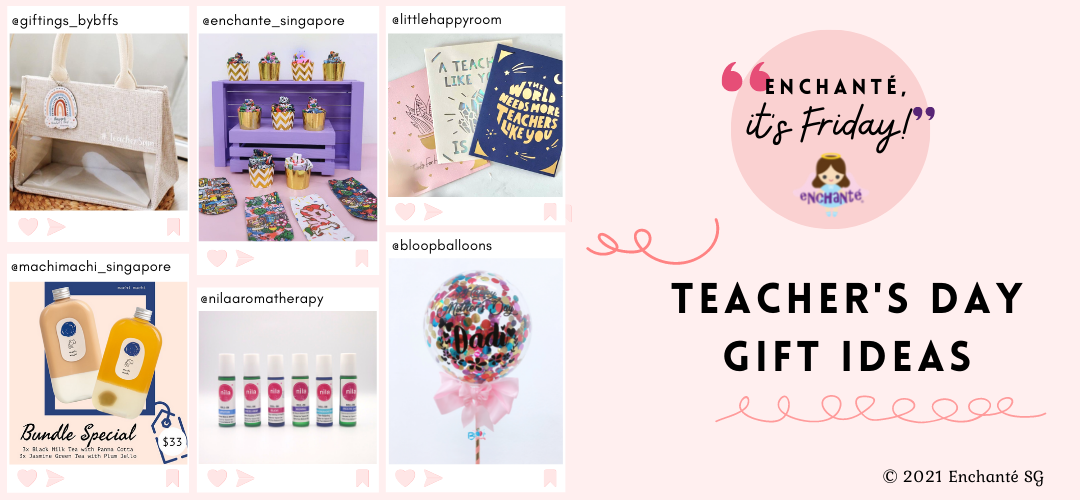 Enchanté everyone!

Teacher's Day is coming soon. Celebrate your teachers' hard work by gifting them thoughtful and heartfelt goodies they'll enjoy!

Beyond the red pens and whiteboard markers, here are some ONE-OF-A-KIND and still cost-friendly gift ideas to get your beloved teachers this Teacher's day!


1. Enchante: D-I-Y Socks Cupcakes 🧁
Socks. Practical, but too boring? How about we sweeten them up? Here's featuring our very own tokidoki sock cupcakes!

We will be releasing our tokidoki sock cupcakes very soon, so stay tuned! In the meantime, how can you make your own sock cupcake?

Here is our foolproof, tried and tested method!
Fold the socks into halves
Roll inward diagonally across the long side. Connect both ends and continue to roll until both socks form a big spiral
Place into a cupcake liner and adjust it to maximise cupcake-ness.
Enjoy!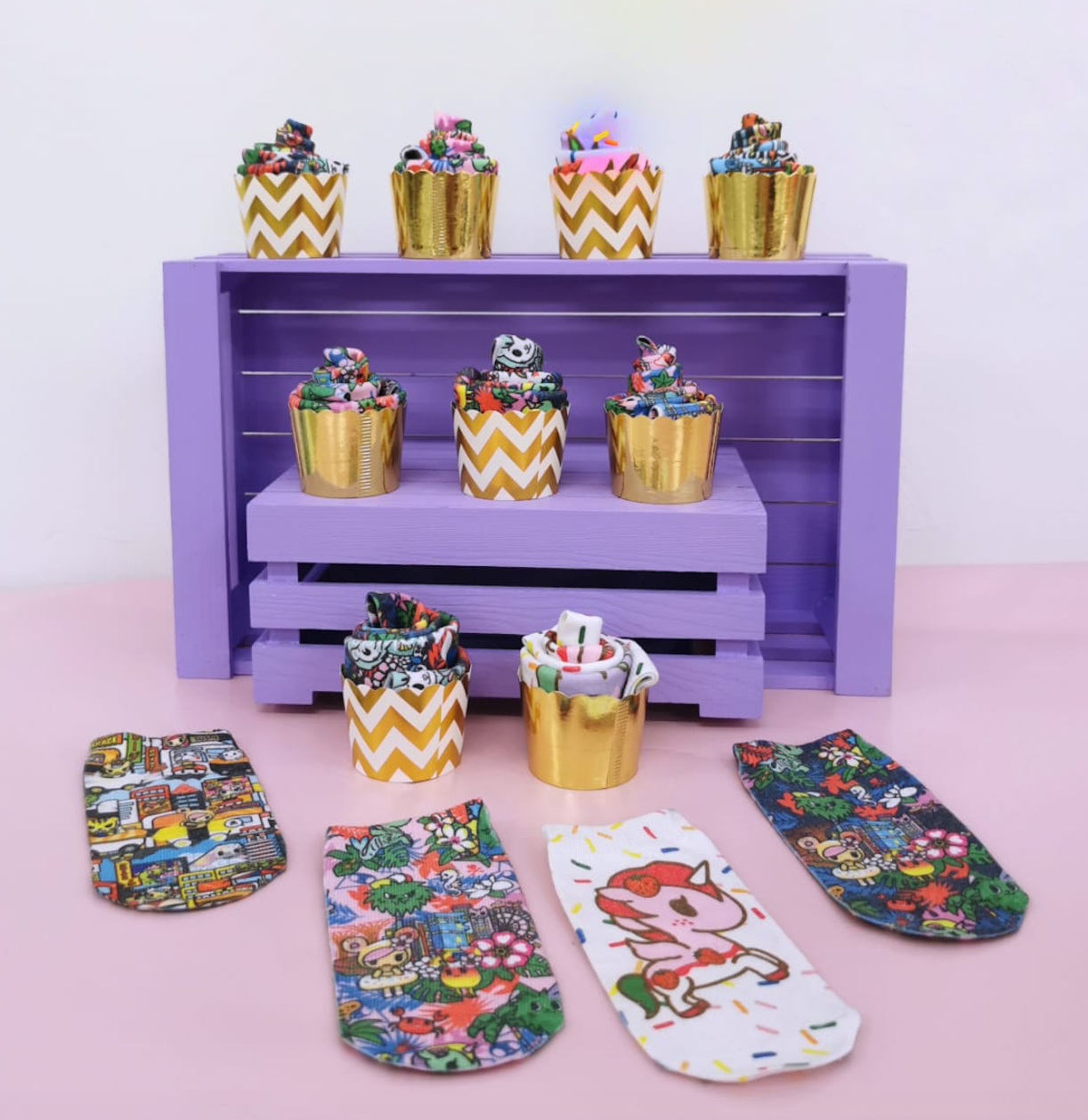 Featured: tokidoki Adult socks



2. Little Happy Room: Handmade Holographic Cards
Everyone appreciates handwritten cards that come from the heart. With Teacher's day comes the perfect opportunity for you to express the gratitude you have for your teacher and let them know just how much they have done to inspire you for the better.

Check out Little Happy Room by crafty mama @itsjeanlum's Teacher's Day special collection, including Teacher's Day card sets of 3, key ring gift sets or a card of your choice! Head over to their Instagram page to check out more craft projects and to place our order.
3. Giftings by BFF: Personalised Tote
What every teacher needs is a good, hardy tote to withstand daily use. Why not perfect it by adding a personal touch?

Giftings By BFF have recently released customised pencil cases and handbags! Their timeless and functional designs are perfect for your teachers' busy schedules.

These goodies sold out in a flash when released, so stay tuned to their Instagram for their upcoming pre-order! 
4. Machi-Machi: Tea-pose! 
There's nothing like a rejuvenating good cup of tea! Soothe your teacher's throats and fill their hearts with a sweet treat!

Machi Machi's tea concoctions are sinfully delicious and would make the perfect gifts for your teachers! We tried and are hopelessly hooked onto the Black Milk Tea with Panna Cotta. 

Good news! Machi Machi currently offers a delicious deal with 6 bottles of bestsellers for just $33! You can find Machi Machi on Grabfood and Foodpanda as well. 
Check out their Instagram out for more updates!
5. Nila Singapore: Essential Oil Roll-ons
"Perfume is an art that makes memory speak", as Francis Kurkdjian once said. Truly enough, the power of scents permeates our very lifestyle, shifting our mood, emotions and environment with a simple aroma.

Nila's signature blended essential oils (EOs) have been very well received by the teachers at online workshops with MOE schools. They are very effective in helping to relieve anxiety and stress, combat insomnia, reduce physical and mental fatigue. Packed in Roll-On bottles for quick and easy application, they are also convenient to carry along with you wherever you go. Shop their EOs now or head over to their Instagram account to see more.
6. Bloop Balloons: Mini Personalised Balloons
Brighten up your teacher's day with colorful balloons and rainbow confetti!

BloopBalloons are our top pick for personalized gifts for any occasion. From balloons to flower bouquets to balloon sculptures and more, you are bound to find the perfect gift for your teacher! To top it all, they provide same day express service so head over to their shop now :)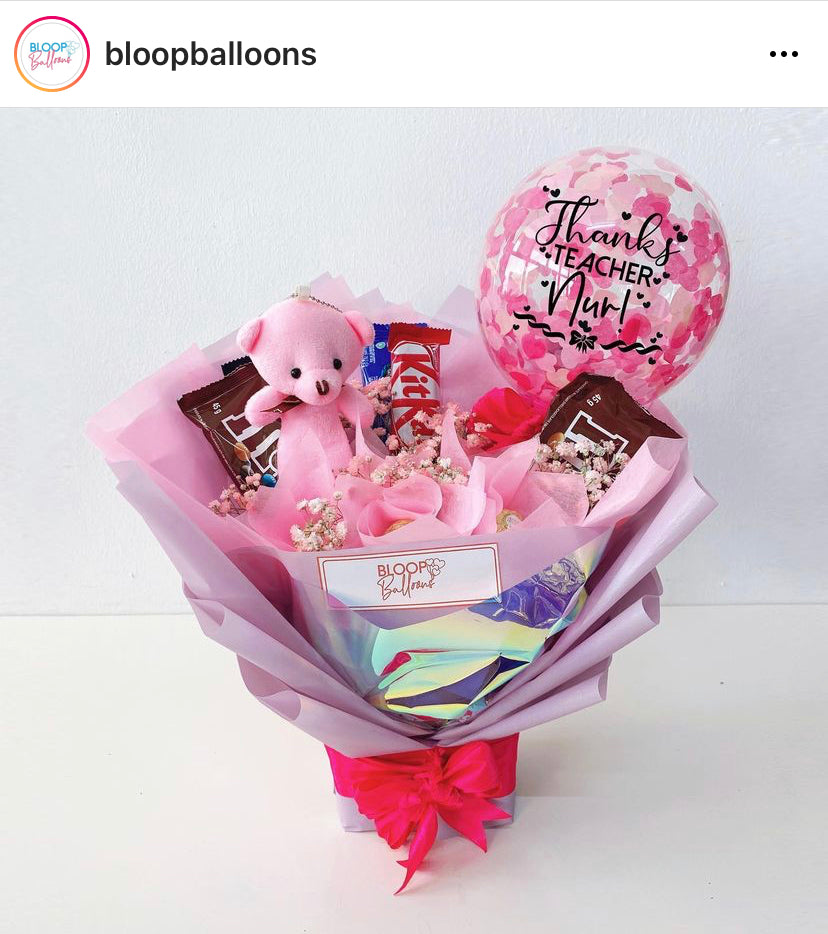 With that, thank you to all of our teachers for making such a big, positive impact on our growing years, and we wish you a very happy Teacher's day!
With love,
Team Enchanté
Share this article with your friends!
Follow us on our social media platforms!
💙 Facebook: Enchanté SG
💜 Instagram: @enchante_singapore and @enchantesg_official
🤍 Telegram: Enchante ❤️🌈
🖤 Tiktok: @enchantesg
Comment